LATEST RESEARCH
A rational design strategy for the selective activity enhancement of a molecular chaperone toward a target substrate. Biochemistry (2015)
Molecular chaperones facilitate the folding and assembly of proteins and inhibit their aberrant aggregation. They thus offer several opportunities for biomedical and biotechnological applications, as for example they can often prevent protein aggregation more effectively than other therapeutic molecules, including small molecules and antibodies. Here we present a method of designing molecular chaperones with enhanced activity against specific amyloidogenic substrates while leaving unaltered their functions toward other substrates. The method consists of grafting onto a molecular chaperone a peptide designed to bind specifically an epitope in the target substrate. We illustrate this strategy by describing Hsp70 variants with increased affinities for alpha-synuclein and Abeta42 but otherwise unaltered affinities for other substrates. These designed variants inhibit protein aggregation and disaggregate preformed fibrils significantly more effectively than wild-type Hsp70 indicating that the strategy presented here provides a possible route for tailoring rationally molecular chaperones for specific purposes.
Rational design of antibodies targeting specific epitopes within intrinsically disordered proteins Proc. Natl. Acad. Sci. USA (2015)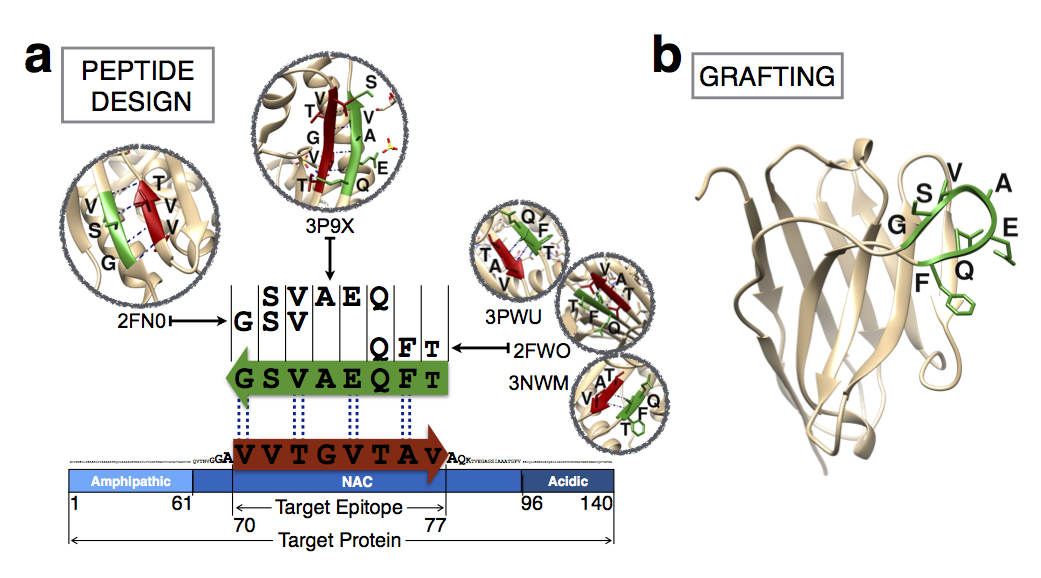 Antibodies are powerful tools in life sciences research, as well as in diagnostic and therapeutic applications, because of their ability to bind given molecules with high affinity and specificity. Using current methods, however, it is laborious and sometimes difficult to generate antibodies to target specific epitopes within a protein, in particular if these epitopes are not effective antigens. Here we present a method to rationally design antibodies to enable them to bind virtually any chosen disordered epitope in a protein. The procedure consists in the sequence-based design of one or more complementary peptides targeting a selected disordered epitope and the subsequent grafting of such peptides on an antibody scaffold. We illustrate the method by designing six single-domain antibodies to bind different epitopes within three disease-related intrinsically disordered proteins and peptides (alpha-synuclein, Abeta42, and IAPP). Our results show that all these designed antibodies bind their targets with good affinity and specificity. As an example of an application, we show that one of these antibodies inhibits the aggregation of alpha-synuclein at substoichiometric concentrations and that binding occurs at the selected epitope. Taken together, these results indicate that the design strategy that we propose makes it possible to obtain antibodies targeting given epitopes in disordered proteins or protein regions.
Structure of a low-population intermediate state in the release of an enzyme product. eLife (2015)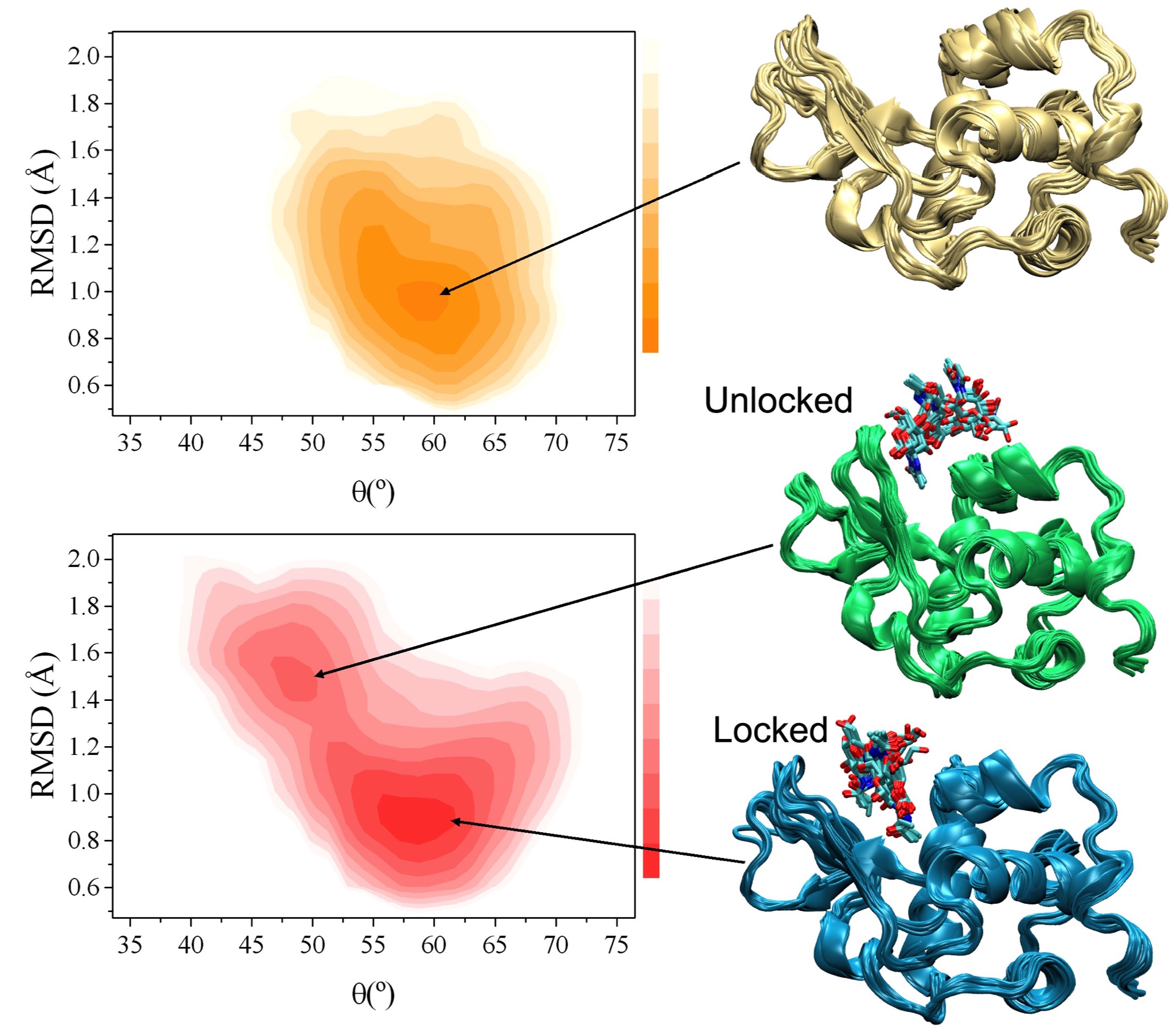 Enzymes can increase the rate of biomolecular reactions by several orders of magnitude. Although the steps of substrate capture and product release are essential in the enzymatic process, complete atomic-level descriptions of these steps are difficult to obtain because of the transient nature of the intermediate conformations, which makes them largely inaccessible to standard structure determination methods. We describe here the determination of the structure of a low-population intermediate in the product release process by human lysozyme through a combination of NMR spectroscopy and molecular dynamics simulations. We validate this structure by rationally designing two mutations, the first engineered to destabilise the intermediate and the second to stabilize it, thus slowing down or speeding up, respectively, product release. These results illustrate how product release by an enzyme can be facilitated by the presence of a metastable intermediate with transient weak interactions between the enzyme and the product.
A molecular chaperone breaks the catalytic cycle that generates toxic Abeta oligomers. Nat. Struct. Mol. Biol. (2015)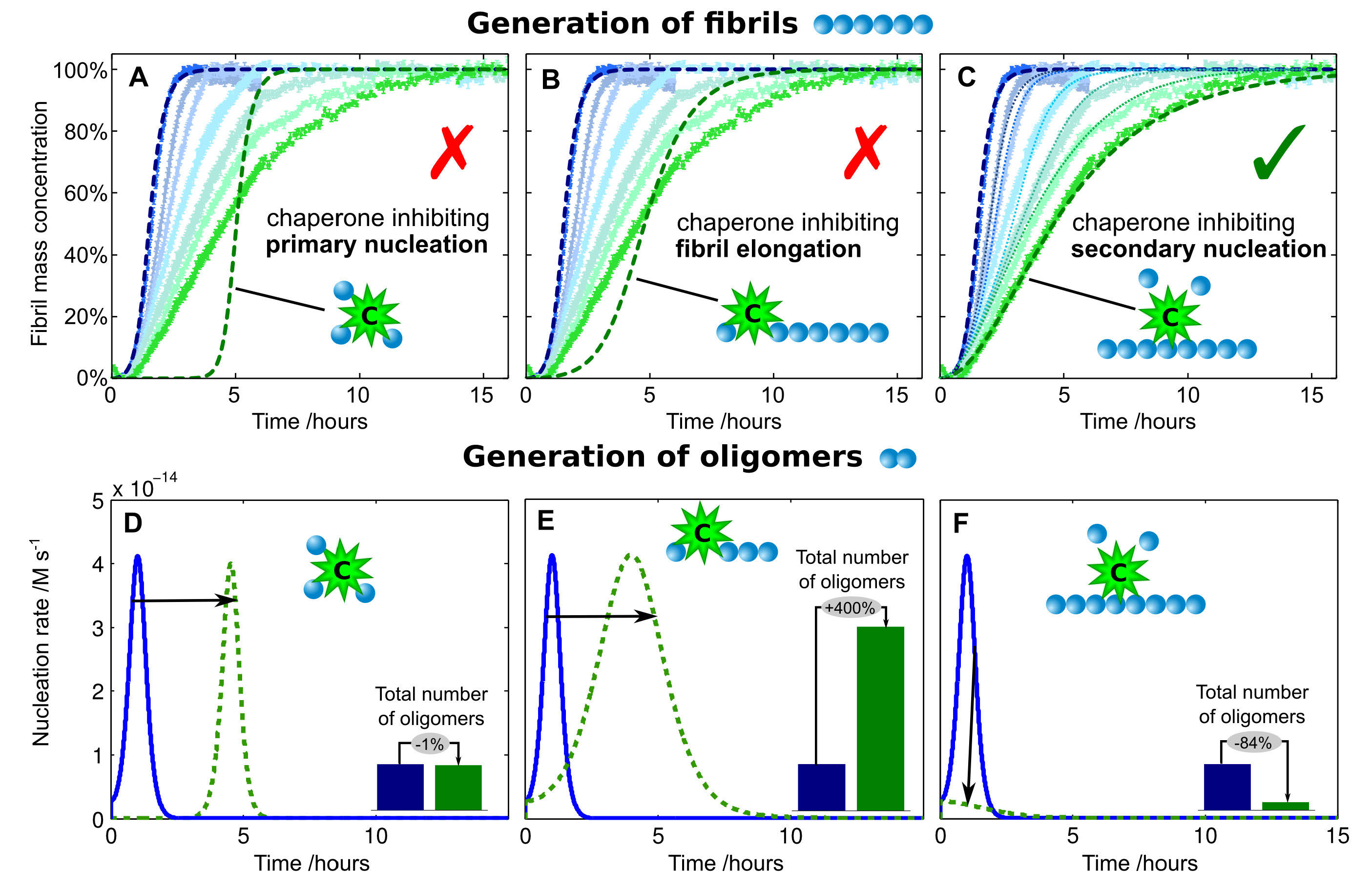 Alzheimer's disease is a highly debilitating and increasingly prevalent neurodegenerative disorder whose pathogenesis has been associated with the aggregation of the amyloid-beta peptide (Abeta42). Recent studies have revealed that the formation of highly neurotoxic oligomers during Abeta aggregation is strongly catalysed by the surfaces of larger aggregates. These findings indicate that a particularly effective way to limit Abeta42 toxicity would be through agents that inhibit this catalytic cycle. Here we show that a molecular chaperone, a Brichos domain, has the ability to specifically block the catalytic production of oligomers. We further demonstrate by a series of biophysical techniques that the Brichos domain achieves this inhibition in vitro by binding on the surface of the fibrils and redirecting the reactive flux from the monomeric to the fibrillar states via a pathway that involves a minimal formation of toxic oligomeric intermediates. We then verify by means of cytotoxicity and electrophysiology experiments using brain tissue that this mechanism also occurs in vivo. These results suggest that biological systems have evolved to achieve effective and efficient suppression of the toxic effects of protein misfolding and aggregation by targeting the individual microscopic pathways that create toxic oligomers, rather than perturbing the overall aggregation reaction.
<!/div>
<!div id="right">


NEW TOOLS
---
CamSol: A method of rational design of protein variants with enhanced solubility.

Web server (academic)
Web server (non academic)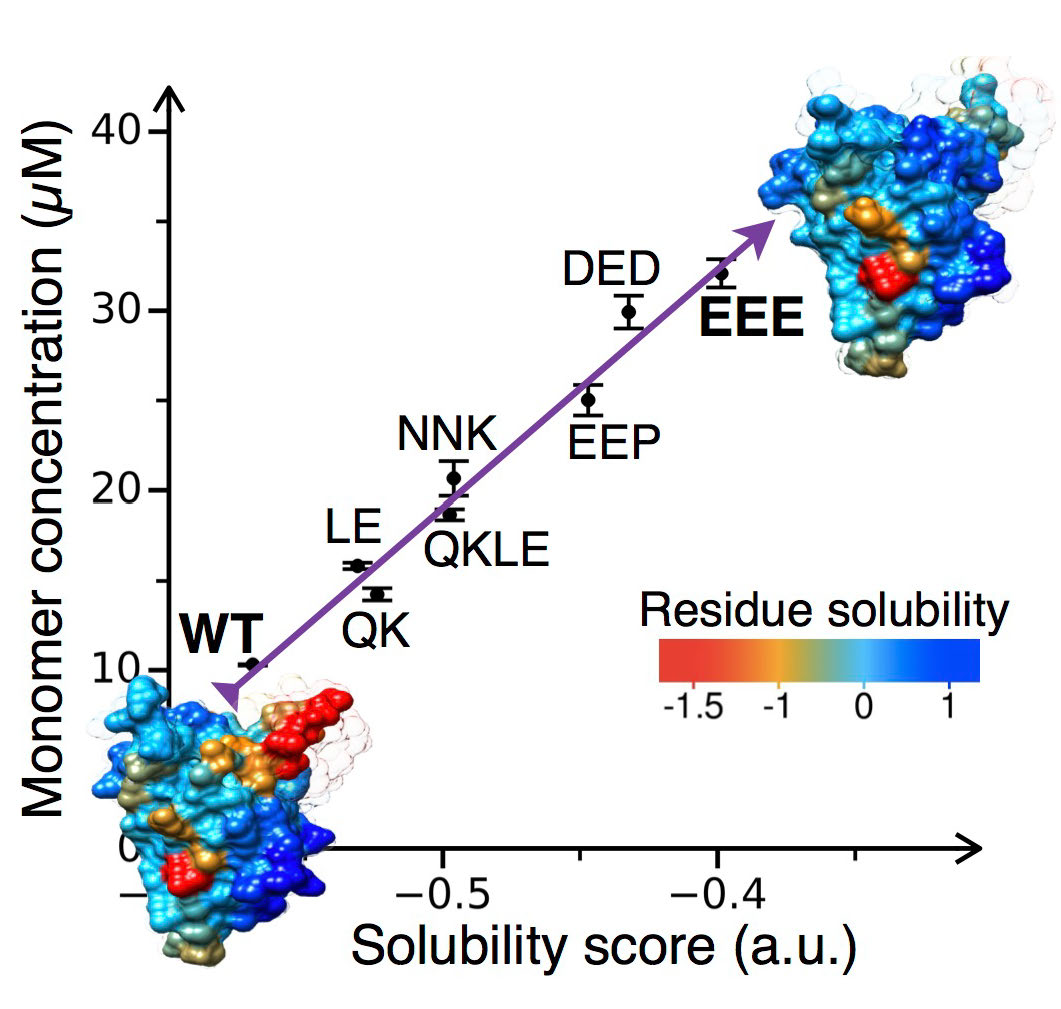 P. Sormanni, F. A. Aprile and M. Vendruscolo. J. Mol. Biol. 427, 478-490 (2015).
---




NEW TOOLS
---
The s2D method: Simultaneous sequence-based prediction of the statistical populations of ordered and disordered regions in proteins

Web server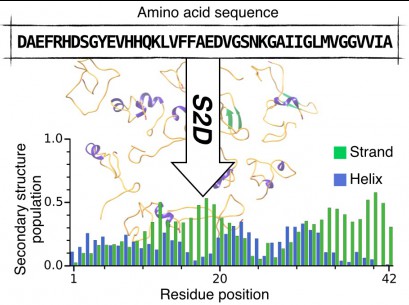 P. Sormanni, C. Camilloni, P. Fariselli and M. Vendruscolo.
J. Mol. Biol. 427, 982-996 (2015).
---




BOOKS
---
Networks in Cell Biology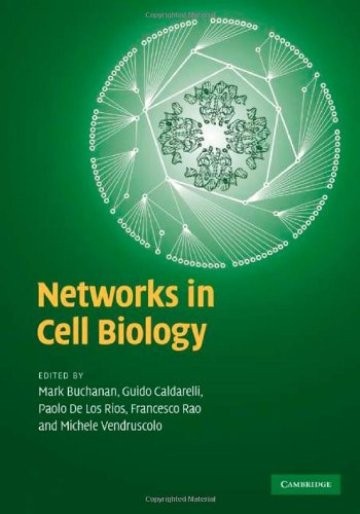 M. Buchanan, G. Caldarelli, P. De Los Rios, F. Rao and M. Vendruscolo (Eds). Cambridge University Press, Cambridge (2010).
---